Yeah, it's been a while since I've updated the old blog. I'm just going to plea newborn status and move on.
So, we're over halfway through the year and I figured it's time for a little reading challenge update. Since I last updated in April, my book count has taken off. As of today, I've read 23 of 35 books and 6,692 pages out of 11,000.
Audiobooks have helped those counts a great deal while not adding much great substance. I have no shame though in admitting that I greatly enjoyed listening to back to back Nero Wolfe novels.
Speaking of goals, however, I have done very little to further my Southern works repertoire. Thanks to the magic of audiobooks, I've listened to A Good Man is Hard to Find by Flannery O'Conner and The Moviegoer by Walker Percy. I can't recall much emotion following the completion of either of those books, but I'm at least glad to have them crossed off my list. Since reading those in early April, however, I've read nothing else Southern related. We'll see if that bug comes back around to motivate me before the end of the year.
I have read some books that I've enjoyed including; The Hangman's Daughter by Oliver Potzsch, The Prisoner of Heaven by Carlos Ruiz Zafon, The Salinger Contract by Adam Langer The Mysteries of the Middle Ages by Thomas Cahill and The Silkworm!!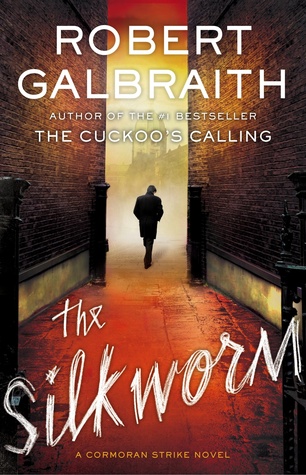 I didn't get into the Harry Potter fandom until after the books were all published, so I missed out on the anticipation and worldwide excitement for each release. Although Cormoran Strike pales in comparison to Harry Potter in the global scene, it's been fun to be a part of the excitement. The second installment was a little grittier than The Cuckoo's Calling, however it was a great read. Galbraith\Rowling included a considerable amount of character development in The Silkworm which makes me even more excited for this series to continue.
I am proud to announce I finished a non-fiction, non-audiobook! My brain has been moving so slow lately, it's taken a lot of motivation to pick up a book. But Thomas Cahill did it again; he enraptured my attention in the 5th book of his Hinges of History series, The Mysteries of the Middle Ages. I read the first installment, How the Irish Saved Civilization, then skipped books 2-4 and picked up in the middle ages. Ryan enjoyed my reading this book, as I think it is one of his life goals to prove to the world that the 11th-13th centuries weren't stagnant, oppressive bleak eras when people sat around waiting for the Enlightenment. For me, it was very enthralling and all mostly new. I feel I have a much better framework for how the lives of St. Francis, Thomas Aquinas and Dante fit into history, as well as new-to-me important figures such as Eleanor of Aquitaine and Giotto. I look forward to reading the next installment covering the Renaissance.
I haven't set out to read book series, but I find myself in the middle of a few. In addition to Cormoran Strike and The Hinges of History, I've  also been following  The Cemetery of Forgotten Books. The third installment, The Prisoner of Heaven was refreshing. The first two went from dark to darker so it was nice to have a slightly lighter story. Albeit not entirely a light and fluffy book. It has made me want to go back and re-read the first two as this book fills in a lot more history absent from the first ones. It feels like there's a lot of discrepancy, but it may be that I'm not remembering everything correctly.
As for what's next, I'm not so sure. I've been listening to a lot of TED Radio Hour episodes on NPR and have tucked away a few book recommendations. I'll have to wait and see what our library has. I dare say we've had a pretty calm month. The school year has started again for Ryan, so I'm in the deep end of solo parenting 4 under 4. We're trying to get back into the groove of a routine, or at least eating every day. Each day is a little bit different, just enough to keep me on my toes. If you don't see me around here much, know it's because I'm trying to survive and may not have time to document it.